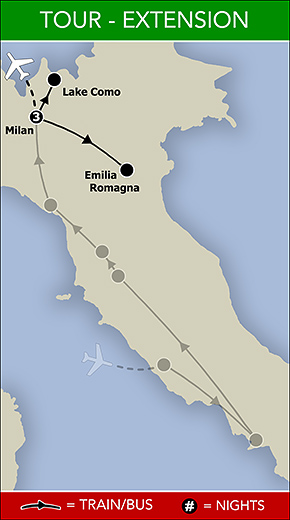 MAY 26 – MAY 29, 2023
Sign-Up Deadline: December 11, 2022
Journey Beyond… even more beyond! What better way to round off our amazing trip throughout Italy than with an exclusive extension to Lake Como, Emilia Romagna, and further exploration of Milan. This three day extension includes a day trip to the picturesque Lake Como (45 minutes away by train), with a guided boat tour of the lake, with stops in the most amazing towns of Bellagio, Varenna, and Menaggio. Enjoy lunch with a lake front view, and discover the little villages that make this lake known around the world. The next day we go Way Beyond what most get a change to see and do, by going straight to the source… of cheese, balsamic, lasagna, and Ferrari. Welcome to Emilia Romagna – Home of fast cars and slow food, we will have the amazing opportunity to visit a family farm, meet the world famous cows, and learn the process of making the real Parmigiano Reggiano (Parmesan). In the afternoon we will visit one of the oldest Balsamic Vinegar producers, with aged Balsamic over 100 years old. Enjoy tasting from the barrel this liquid gold, an experience and flavor you will never forget. Finally, our last day of this Extension allows us extra time to truly explore Milan, visiting the rooftop terraces of Italy's largest and most detailed cathedral, as well as other hidden gems and secrets of this amazing city. The trip offers a truly special opportunity to combine Italian history, culture, photo opportunities, and food & wine into one unforgettable journey! For more details, view Full Itinerary.
This Extension is exclusively available to the travelers already signed up and registered on the Journey Beyond 2023 Tour.


$1,450
Price includes: • Hotel Accommodations • All Activities on Itinerary • Italian Ground Transportation on Tour • Breakfast Everyday
Excludes: • All Other Meals • International Airfare • Travel/Health/Cancellation Insurance.
Price per person, double hotel-room occupancy.
Single-Supplement Traveling Alone: Additional $650.*
Deposit: $450/person reserves spot on tour. Once Sign-Up application is complete, you will receive invoice for non-refundable deposit. Remaining Payment-In-Full due 90 days prior to tour start date.
*Single Supplement fee due 50% on Sign-Up Date / 100% due 90 Days before Tour Start Date.
View the registration process for more details.
Trains Each Day
Boat Tour of Lake Como
Stops in Bellagio, Varenna, & Menaggio
Parmesan Farm & Balsamic Family Producer
Special access Milan Cathedral Rooftop Terraces
Exploration of Milan's hidden gems
Milan Hotel (3 Nights)
Perfect balance: Culture, food, activities, & photo opportunities
Perfect time of year: Beautiful weather & fewer tourists
– Click to View Adam's Photos of Italy


The Full Itinerary below outlines all activities, entrances, hotel nights, transportation, and group meals included throughout the tour. Most days begin at 8am and finish after dinner. There will be some free time made available throughout the tour, as well as optional morning and night photography too. Most days consist of daily walking around the cities, with frequent stops along the way to enjoy the views, delve into the activities, and live "La Dolce Vita" (the sweet life) in Italy!
(New) Departure Day & Time: May 29, 2023  •  Depart Anytime • Hotel Check-out by 10am.
Airport: Milan International Airport (MXP)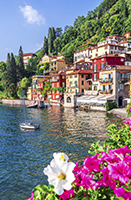 Lake Como (Lago Di Como)
DAY 1
Lake Como Description. There are few places in the world that are more beautiful and luxurious than Lake Como. An amazing natural body of water located at the foot of Alps Mountain Range, bordering Switzerland has fingers that run along gorgeous villas and villages just waiting to be explored. We will explore the lake by guided ferry, with stops along the way at towns of Bellagio, Varenna, and Menaggio. We will see locations of many movies such as James Bond – Casino Royale, and picturesque homes like that of George Clooney. From the spectacular and dramatic views of the lake and mountains, to the colorful villages, it will be a day to remember! This day trip will be by train from Milan to Lake Como, and include a whole day of exploration of the lake by boat and by foot, returning in the evening to our hotel in Milan.
INCLUDES:
Train to Lake Como
Guided Ferry Day Pass
Stops in Bellagio, Varenna, & Menaggio
Train to Milan
Breakfast Included at Hotel
Milan Hotel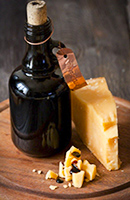 Parmigiano & Balsamico
DAY 2
Of course, all of Italy is known for food. But there is no place more important and influential to the world than the home of slow food and fast cars… Emiglia Romagna. Here you will find Parma, Bologna, Modena, and Maranello, a grouping of towns that produce some of the world's most important treasures: Parmigianno Reggiano cheese, Lasagna, Balsamic Vinegar, and Ferrari cars. To "Journey Beyond" is to go to the source, which is exactly what we will do, as we discover some of the oldest family owned farms that produce Parmesan cheese, and Balsamic vinegar, learning the entire process of production and tasting the amazing results (even tasting some vinegar that has been carefully aged for over 100 years). We also have time in Bologna to enjoy the original Lasagna recipe passed down over the generations, and probably see a Ferrari or two along the way. This is a day trip from Milan, by fast train (1 hour), returning in the evening back to our hotel in Milan.
INCLUDES:
Train to Bologna
Private Van for the day
Tour/Tasting at Parmesan Farm
Tour/Tasting at Balsamic Farm
Lasagna Dinner in Bologna
Train to Milan
Breakfast Included at Hotel
Milan Hotel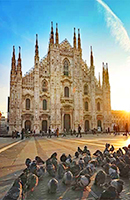 MILAN
DAY 3
On this final day, we will have the whole day to explore, discover, and go beyond in Milan. We will have a through exploration of Italy's largest and most detailed cathedral, as we will not just go inside, but also on top of the rooftops to observe the hundreds of intricate details, gargoyles, and stunning views offered by this exclusive access to the Duomo Cathedral of Milan. Visit one of the most beautiful cemeteries in Italy filled with art and sculpture, along with the opportunity to shop among the fashion capitol of the world, and discover more hidden gems and secrets to this incredible city. Optional time in the afternoon to pack and get ready for your flights home the next day, or optional visit to Leonardo Di Vinci's "Last Supper" – A truly wonderful conclusion to an already incredible trip of Italy!
INCLUDES:
Tour inside the Cathedral
Special access to Cathedral Rooftop Terraces
Exploration of Milan's hidden gems
Cimitero Monumentale di Milano
Breakfast Included at Hotel
Milan Hotel
Depart Morning of Final Day from Milan (MXP)


What Now:

The Process:
STEP 1: Submit Sign-Up application! First come first serve!
– Click any blue box that says "Click to Sign-Up" and fill out the application for each Participant.
STEP 2: Receive Invoice and Pay Amount for Tour.
– Non-refundable and due upon receiving. Single Supplement Fee due if applicable.
STEP 3: Pay Remaining Balance Due 90 Days Prior to Tour Start Date.
– Additional: Any additional fees, hotel nights, extension balances, etc. due if applicable.
STEP 4: Start Packing you Bags! You have one amazing journey ahead!

Registration Process: Deposit/Payments/Cancellations/Refunds:*
This tour extension is limited to a maximum of 8 people.*
Prices are per person. Rooms filled with double occupancy (single supplements available in limited supply on first come first served basis).*
* Please see the Terms & Conditions agreement for additional information. By signing-up, registering, making payment(s) toward, and/or participating in, a Tour, you agree to all Terms & Conditions.